Jane was recently awarded First Prize in the Still Life Section of the Pastel Society of Australia's Annual Awards. Over the years she has won many awards and featured in publications and on local radio.
Jane Wray Exhibition | "Frolic" |
The Old Fire Station in Kiama, NSW from October 2-7 2020. Open from 10-5 daily.
Over 30 works in a range of sizes and prices.
---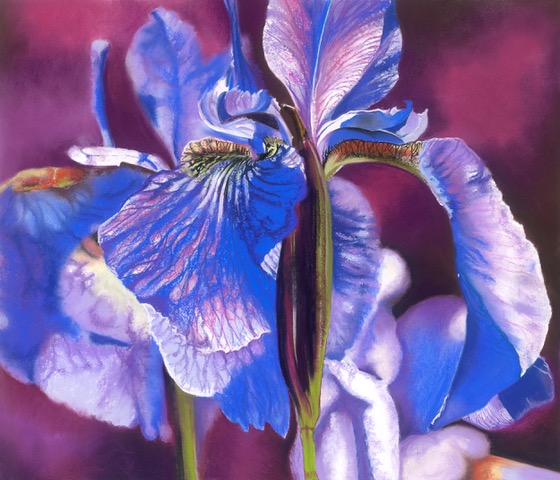 Jane Wray's award-winning still life "Irises"
"My inspiration was the rendering of delicacy and power in florals by the old masters.
My work is more contemporary in style but uses the drama and contrasts I found in past glories."
---
 Jane says…
I work exclusively with soft pastels. The vibrancy and flexibility of the medium is what attracted me as I need to constantly modify my work! I'm a bit of a perfectionist so I need a medium that's responsive to being painted and reworked. The medium of soft pastels is highly sculptural for a 2D medium. You can get very involved with the textures, transparency and layering of pastels. Something I love!!

When I first began painting I was advised to stick to one genre, one subject even! I found this an impossibility because I am constantly drawn to challenges. I love any compelling subject. I paint in all genres and tend to change up genres when I get bogged down. My main focus is the drama of the subject. My belief is that art certainly can challenge and make you think, but if it's not visually compelling it's not great art.

In the last few years I have won many awards and been accepted into The Royal Art Society of NSW as an exhibiting artist. Recently my work 'Irises' won the Pastel Society of Australia's Still Life Award.
Jane's work..
Instagram: janewrayart