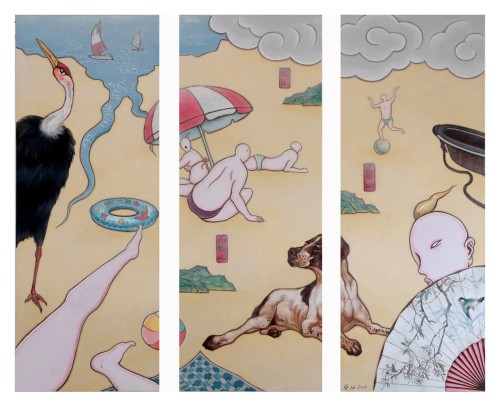 Image: Guan Wei
born China 1957, arrived  in Australia 1989
Beach 5
2014
acrylic on canvas
Every two years the Gallery invites artists to submit entries for the Arthur Guy Memorial Painting Prize. The most outstanding work as judged by the selection panel is awarded an acquisitive cash prize of $50,000. The Prize was initiated by Mr Allen Guy C.B.E in honour of his late brother Arthur Guy.
The $50,000 Arthur Guy Memorial Painting Prize for 2015 is Guan Wei, for his triptych 'Beach 5'.
It's an incredible survey of contemporary painting, see the exhibition of finalists on display until 1 November 2015. Exclusive to Bendigo Art Gallery.
Courtesy of the artist and Nancy Sever Gallery