The New Media Art Prize is on display at the Arts and Ecology Centre, Maroochy Bushland Botanic Garden until November 1. The exhibition is open from Wednesday to Sunday from 10am to 4pm.
---
An amazing "world-class" new media artwork is how professional co-judges Matthew Perkins and Lubi Thomas described Victorian artist Sheena Colquhoun's winning artwork in the 2015 Sunshine Coast Art Prize, New Media Award.
An established creative initiative of Sunshine Coast Council, the Art Prize is now the annual signature art event on the region's cultural calendar.
Community Programs Portfolio Councillor Jenny McKay said the Sunshine Coast Art Prize was now one of the richest regional art awards in Australia.
"In its second year, the New Media Award category has again attracted an outstanding selection of quality entries from all over the nation, featuring cutting-edge technologies," Cr McKay said.
"The New Media Award has certainly made its mark in becoming an integral emerging category of our well established and prestigious Sunshine Coast Art Prize".
A $10,000 cash prize was awarded to the winner along with a $1250 Highly Commended award sponsored by University of the Sunshine Coast Gallery and a Public Art Mentorship valued at $2500 sponsored by Maroochy Music & Visual Arts Festival. The People's Choice artist will also receive a $250 cash prize.
Cr McKay said the Arts and Ecology Centre was a fantastic creative exhibition space and the perfect natural backdrop for the New Media Award.
"We were very lucky to secure Australian new media art expert Matthew Perkins and highly respected digital and new media arts curator Lubi Thomas as co-judges for the rapidly evolving New Media Award," Cr McKay said.
They awarded the $10,000 cash prize to Victorian artist Sheena Colquhoun from Coburg for her video artwork Untitled (build a bridge). 
"We were truly engaged with the winning artwork and the way she cleverly weaved her conceptual concerns with image and narrative – all enfolding into one another to produce a rich layering of meaning," Mr Perkins said.
"We were taken by Sheena's crisp production values and very minimal composition showing artistic restraint.
"We also enjoyed how the spoken word occasionally manifested itself as visual text and also motivated an edit point – concept and visual style working in synergy.
"What is clever about Sheena's work is that it deals equally with issues relating to the construction of language itself, the illusion of the grand narrative of industrial age and reconstruction of cultural memory and history.
"Sheena has created a work that allows multiple readings and this is the sign of an artist that not only has control of the medium but also an artist that has a depth of understanding of the subject matter. A well-researched production."
The judges awarded the $2500 New Media Highly Commended Award to artist Yandell Walton from Collingwood, Victoria.
"Yandell's interactive animation Human Effect (Sunshine Coast) is both visually stunning and technically advanced. Much of the interactive work in the 1990s suffered because it was more concerned with technology rather than ideas," Mr Perkins said.
"Yandell's work is an excellent example of the maturing of interactive work. The way she deals with issues relating to the destruction of the environment is clever and invites a simple but curious level of interaction with the participating audience.
"Works such as Yandell's carry a high level of risk – artist working within a zone of ever changing technology and a string of issues relating to computer speed, operating systems and platforms. Human Effect works fluidly and poetically enacting a kind of wonderment within the viewer – child and adult alike – with the magic of the technology evolving the image over time. Yandell's work evidences technical risk, competency and complexity."
Maroochy Music & Visual Arts Festival Director James Birrell awarded the $2500 Public Art Mentorship to new media artist Aaron Butt from Ningi, Queensland for his digital video Missed Encounter (Falling Man). 
Mr Birrell said he found Aaron's work to be conceptually strong offering the audience a chance to reflect on a recent tragedy that is part of a conflict that has engulfed mankind for thousands of years.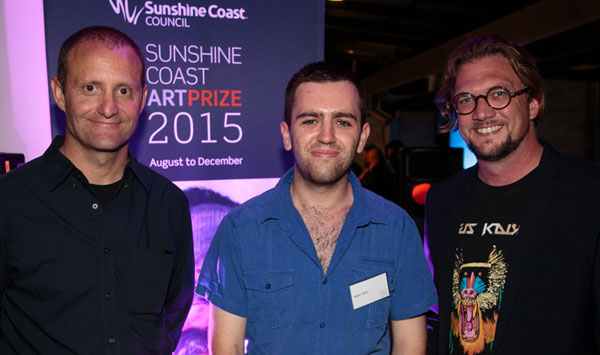 "We are excited about offering an opportunity for the artist to reach a larger audience in a festival environment," he said.
To view the vibrant Sunshine Coast Art Prize program of events and to register for an inspiring art workshop visit council's Gallery website.