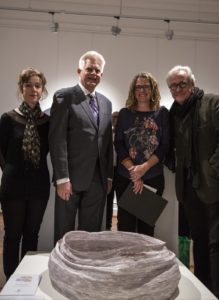 The 2016 theme The Resurrection has inspired over 260 artists from across Australian in painting, sculpture, photography and new media to enter the 2016 Mandorla Art Award. A shortlist of 44 artworks are currently on display at Linton & Kay Galleries, Perth for the Finalists Exhibition.
The biennial Mandorla Art Award for contemporary religious art opened on Friday 15 July with the $25,000 acquisitive St John of God Health Care Prize being presented to winner Megan Robert for her work titled "The Bread Basket at Emmaus – then Flesh returned to Word"
The 2016 judges – Dr Petra Kayser, Prof Ted Snell and Rev Tom Elich said "All three winners are powerful statements about personal experience, expressed in such a way that they can take us somewhere, intellectually and emotionally."
About Megan's work – "Here is a whole bible, every printed page carefully rolled up and sewn into a basket in a long process of assemblage. The bread basket brings together word and sacrament, relating to the episode when the resurrected Christ walked with the disciples on the road to Emmaus and revealed himself when he broke bread at Supper. The bread basked is a container but an empty vessel, it speaks of absence and presence, and we found that many possible readings and meanings can be drawn from this humble, yet complex object."
Megan is from NSW and had chosen to deliver her work personally and stay in Perth for the award night, just to be part of the experience of exhibiting at Mandorla. She was completely over whelmed when advised of her win on Friday.
Two awards were also presented to highly commended works by Libby Byrne (VIC) and Camilla Loveridge (WA).
"We really liked Camilla Loveridge's Over Jerusalem, a beautifully worked, tactile painting of a landscape – which she described as 'the burnt terrain of humanity and life'. Attached to the surface of the painting is a brittle white round shape, which makes the absent body of Christ, present through the host."
Libby Byrne's "Resurrection: A daily navigation" is a set of 50 prints documenting a drawing process, beginning on Ash Wednesday, and continued every day until Easter Sunday. Libby set up this process in order to understand the journey towards Resurrection.
She photographed the changing drawing each day, recording its development, which includes scraping back paint, starting again, taking a new turn and transforming the image. This is a process, a meditation that requires time, observation, thought, and persistence.
The Finalists Exhibition, is open to the public at Linton and Kay Galleries, Level 1, 137 St Georges Terrace until Sunday 24 July 2016. Gallery opening hours are 10am – 5pm Monday – Friday and 11am – 4pm Saturday and Sunday.
Also on display are several antique bibles, generously loaned for the exhibition from the Kerry Stokes Collection, Perth.
The artworks are available for purchase and visitors are invited to vote for their favourite work in the People's Choice Prize. The winner of which will receive $2,000 when it is announced at the
New Norcia Museum and Art Gallery where a selection of finalist works will be on display for the month of August.
A catalogue of works is available from www.mandorlaart.com
About the Mandorla Art Award
The Mandorla Art Award for contemporary religious art is Australia's most significant thematic religious art prize, attracting some of the country's finest artists since its 1985 inception. For more information, visit www.mandorlaart.com
About St John of God Health Care
St John of God Health Care is a leading not for profit Catholic health care group, employing 9,300 caregivers across 13 hospitals, pathology, home nursing and Social Outreach and Advocacy services in Australia, New Zealand and the Asia Pacific. For more information, visit www.sjog.org.au