Some artists live in one part of the Universe of Art and explore a theme or themes. Gayle Reichelt has been strongly attracted to the exploration of different mediums, across the whole Universe of Art.
Currently she is working mostly in the mediums of Epoxy Resin and the ancient 2000+ year old medium of Encaustic, as well as charcoal drawings. Her early years involved mostly oil and charcoal, with forays into watercolour, pastel and acrylic. With these mediums, Gayle explores the abstract, portraits, landscape, figurative and surreal subject matter.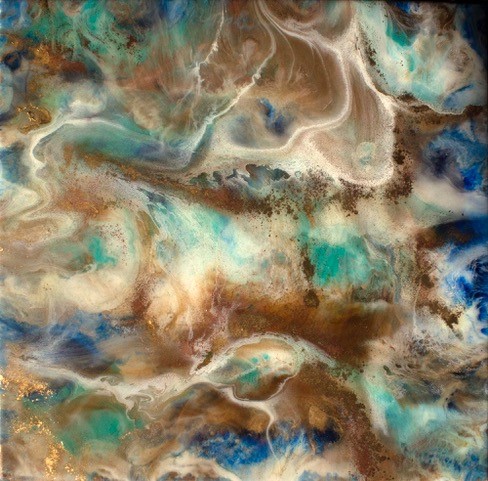 After the Rain, 60cm x 60cm
I began my painting career 35+ years ago, but have only been in a position to totally focus on it for the last 3 years. I am a qualified teacher of many painting disciplines.
Exhibition and Workshops
The images in the exhibition "Universe Unfolding" will feature Gayle's latest works in Epoxy Resin.
Two workshops have been organised for 7th & 15th July, and each workshop can take up to six students. The workshops in Dayboro will be an introduction to Resin, safety, basic techniques, and possibly a few more advanced ones if time allows. Gayle will supply all the materials for the workshops including a 60cm substrate for each student, the resin, pigments & pastes for colour, and everything else.
The location of Gayle's exhibition and the two workshops is in the Old Butter Factory building in the beautiful historic town of Dayboro. To attend one of the workshops in July, please book in through entangle – Living Art. For bookings for my workshops in Tallai, Gold Coast, please contact me directly through my website.