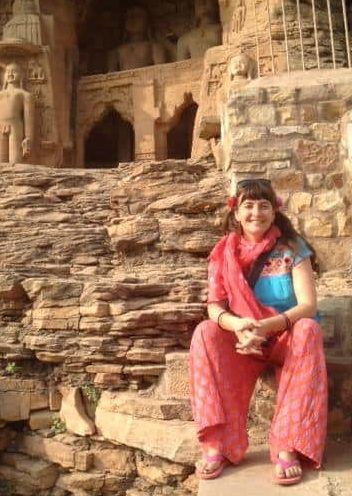 Looking for inspiration to start your new year?
Join professional artist and educator Catherine Parker on a portable sketchbook art tour to India. Paint, draw and experience the saturated colourful landscapes of Madhya Pradesh, central India.
These tours are deeply personal, adventurous and full of cultural immersion.
This artist program includes visits to small, humble villages in Orchha and Gwalior, traditional artisans, sacred temples with unique frescoes, the 9thc Jain temples in Gwalior and a host of other inspiring features, designed to spark your creativity.
After nearly 30 journeys to India, I remain as excited and passionate as the first time I arrived in 2005.
– Catherine Parker
Accommodation is in beautiful heritage hotels chosen for their inspiring architecture and elegant features. Destinations in their own right, you will have plenty to be inspired by.
Suitable as a Professional Development tool for Art Educators.
---
INDIA | Sketchbook Village Art Tour | Orchha + Gwalior – Madhya Pradesh (Central India)
March 7 – 20  2018: 13 nights/14 days
---
ODISHA – East India
The Tribal, Temple + Village ART Tour:
February 16 – 28  2018
---
See website for more details : https://catherineparkerarttours.com/