When the Archibald prize exhibition was exhibited at Tarrawarra museum of art, which is 5 minutes drive from where I live, in 2009, I decided I would act on a goal I had long held to submit a portrait to the Archibald Prize. Realising that it is a highly competitive competition with just 41 artworks in the finalist exhibition out of approximately 1000 entries I made up my mind to commit to submitting an entry each year for at least 5 years. There were times this 5th year when I thought I may not be able to do it. However, after almost securing a well known celebrity, only to have those plans fall through, I decided to use an idea I had been mulling over for a self portrait. At least I had a willing sitter prepared to pose for long periods in my studio! I much prefer to work from life, although, I realise, that in most of our busy lives its not feasible to spend hours sitting and most commissions are a combination of live sittings and reference photographs. Being both artist and sitter can be different.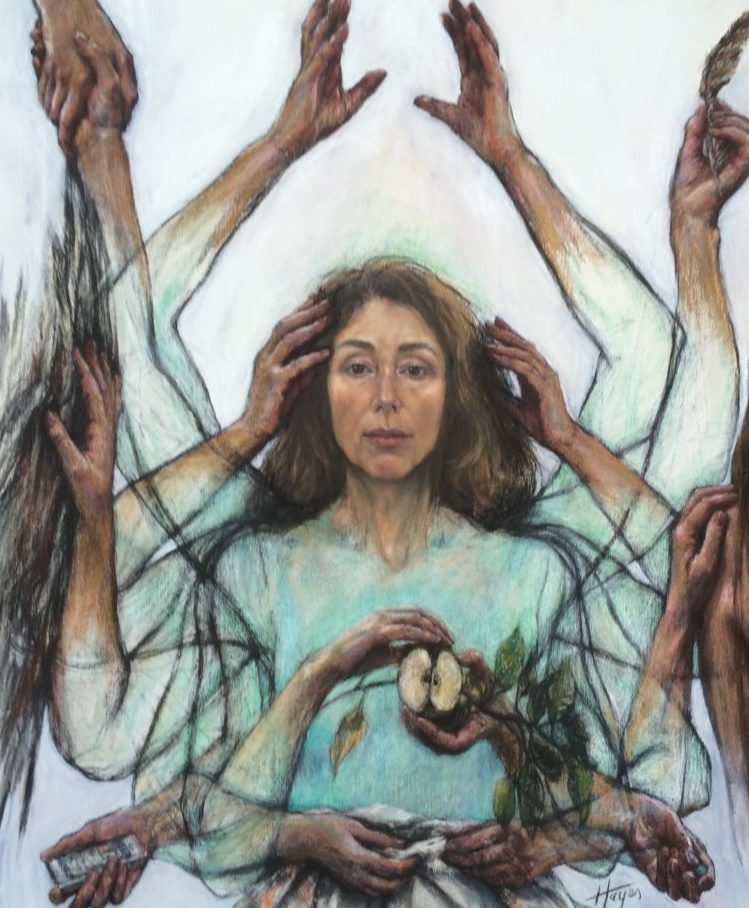 I decided to experiment with mixed media on canvas. I have been working on a way I can get passed framing pastels under glass by applying them to canvas and sealing them first with spray fixative, then spray varnish. It is always a nuisance how they darken with this technique, but I persevered and found that Sennelier pastels darkened the least.
I have used water soluble oils over the face, where, underneath, I first applied a layer of pastel. Why? You may well ask. I feel a lot more confident working with pastel and it is a medium which I enjoy using above any other. The drawbacks with pastel, from others points of view and not my own, are; the fact that they usually require glass to protect them which creates a lot of reflection, and they are often seen as "just" a drawing medium and not a painting medium. The reflection I understand, it can sometimes hamper complete viewing of a pastel, although serious collectors are generally not bothered by this. The drawing versus painting is debatable. The Archibald prize entry information stipulates the work must be a painting. Some artists, myself included, feel that if you coat the surface thickly with pigment then a pastel becomes a painting. Others feel no matter how you handle the pastel meduim it is still in the realm of drawing. So, to get around these two obstacles I decided to incorporate oil paint in the face keeping other areas more sketchy using my favourite medium. I am still experimenting. Which hopefully is a good thing. The most memorable of artworks are usually those that look different to anything else, which is what I have been aiming for in this piece. I wrote these statements before I viewed the Degas exhibition and I was surprised to see that Degas had used pastel and oil paint together. These were framed under glass, but I have read that Degas worked with a Chemist on finding more permanent fixatives.
There are several inspirations that lead me to using the several pairs of hands in my portrait. Firstly, I express myself so much more with my hands rather than my face so it makes sense to me to show that in a self portrait. I'm also inspired by Indian carvings, particularly those with multiple arms. There is something about them that strikes a deep, subconscious chord within me.
Then, I have often joked with friends how an extra few arms would be very useful (mainly in the kitchen). But mostly, it is a way of showing how I most express myself. I have called the work Seed relating to the hands which hold the cut apple and branch. My concept here is thinking of; as the seed is to the fruit and limbs of a tree then my thought energies, whether they may come from the head, heart or soul, are the seeds to my actions, and to my actual limbs, which carry these out on a physical level into the fruits; my artworks.
I would like for the work to be interpreted by the viewer, but for some clues on why I have used the hands in different positions, touching and holding different objects, I have posted some detail images with brief descriptions on Instagram; I invite you to follow me at this address: Instagram- ayearinblackandwhiteplus
Janet Hayes, Artist
Pastels, Portraits, Classes:
www.janethayes.com.au